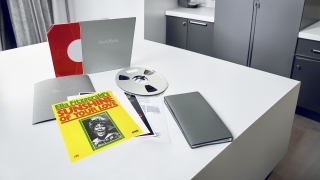 Ella Fitzgerald - Sunshine of Your Love 26.5 cm
"She has been more famous, over a longer time span, than any other female singer." - Leonard Feather.
In her extraordinary career, the "first lady of song" collaborated with the key figures of big band jazz – among others with Chick Webb and Dizzy Gillespie – won a total of 13 Grammys and was awarded the National Medal of Arts in 1987. Her distinctive interpretations of jazz standards can be found in countless American songbook albums. Ella's expanded repertoire, enthusiastic about the then burgeoning Bossa nova and pop, appeared principally on her albums from the late 1960s. As the founder of Verve, Norman Granz put together many of her live recordings in 1969 for an MPS album, so the album title was chosen as the Clapton classic "Sunshine of Your Love". The album offers an impressive musical range of colours with compositions by John Lennon, Eric Clapton and Antônio Carlos Jobim on the one hand, and big band classics, such as "Give Me the Simple Life" and "Old Devil Moon" on the other. Rousingly interpreted by the Ernie Heckscher Big Band and the Tommy Flanagan Trio. Captured on AAA tape, the euphoric evenings of the series of concerts from the San Francisco Fairmont Hotel become an analogous journey through time full of jazz nostalgia.
The tape is produced for you personally by our partner Horch House.
For 10 years now, master tape copies of renowned labels such as Deutsche Grammophon, MPS, Sony Music, Warner Music and various others have been released under the Horch House label. Horch House produces master tape copies that are dedicated to fidelity and provide an outstanding sound experience with your tape machine. In order to achieve this fidelity, the working basis is the original master tape of the respective recording. A production master is created from this and then forms the base for your personal copy. Horch House relies exclusively on Studer | Revox tape recorders for production.
Created personally for each customer. Returns are therefore excluded.
Please also note the technical details
Ella Fitzgerald - vocals Tommy Flanagan - piano Ed Thigpen - drums Frank de La Rosa - bass Produced by Norman Granz Recording Engineer: Wally Heider
Technical details
dimensions
weight (kg): 0
depth (mm): 0
height (mm): 0
width (mm): 0
Recording level
320 nWb/m
Tape material
RTM LPR90, metal reel
Recording format
1/4 inch, 2-Spur
Recording speed
38 cm/sec - 15 IPS
Technical details
dimensions
weight (kg): 0
depth (mm): 0
height (mm): 0
width (mm): 0
Recording level
320 nWb/m
Tape material
RTM LPR90, metal reel
Recording format
1/4 inch, 2-Spur
Recording speed
38 cm/sec - 15 IPS