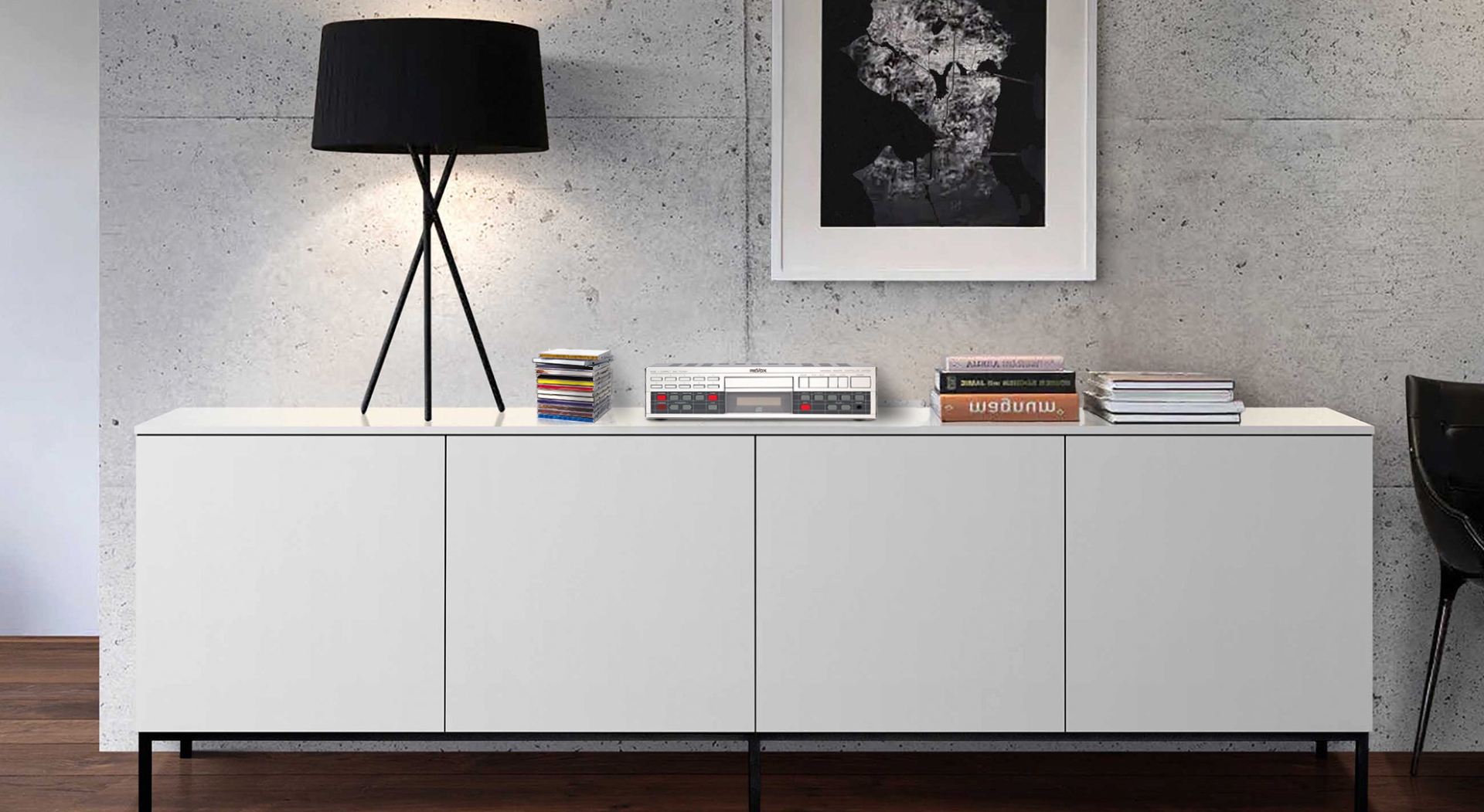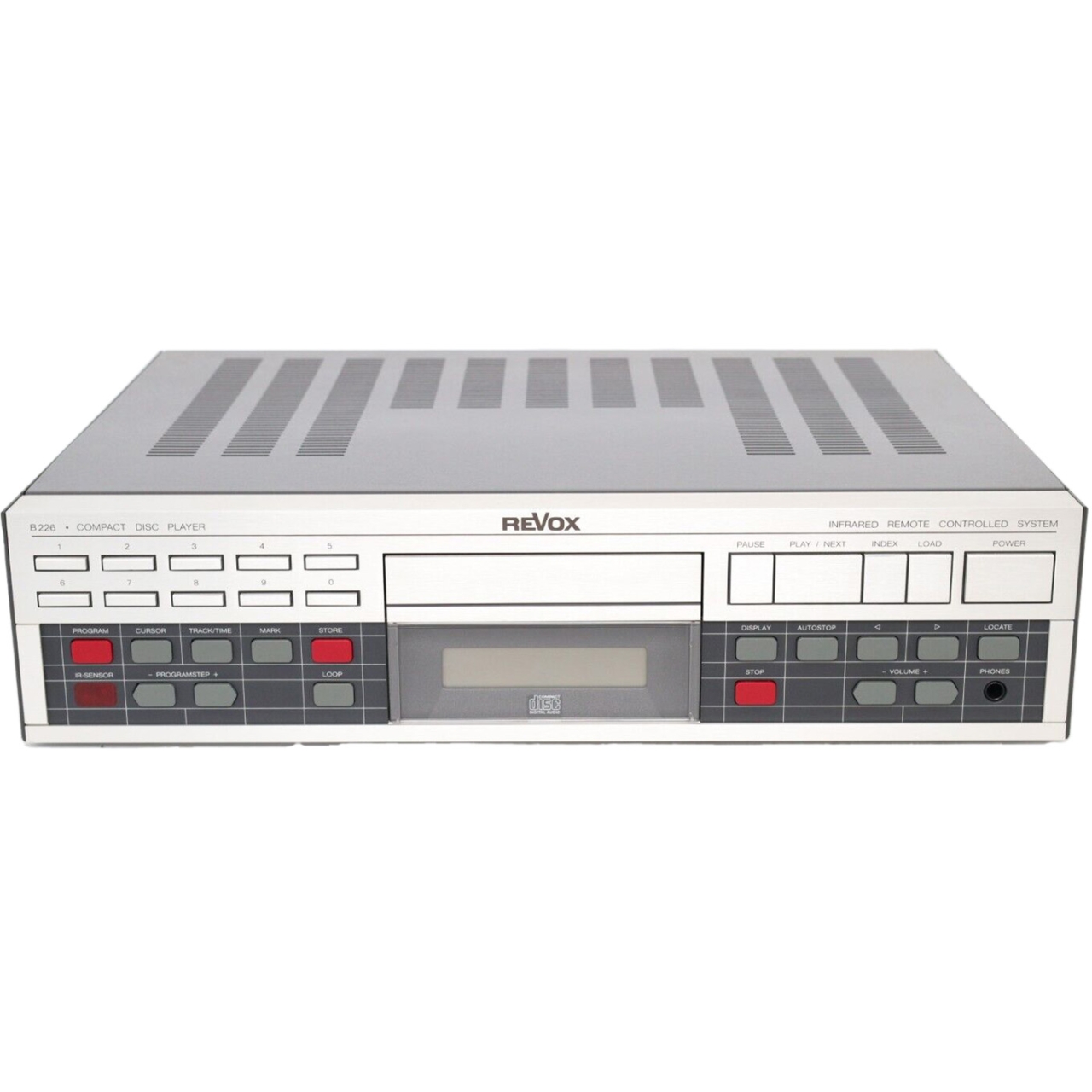 With the development of its Compact Disc player, Revox contributed to the triumphant advance of music listening in a new dimension. Because Revox was not satisfied with just repeating the usual. Committed to a better solution, a device was developed whose intelligence needs to fear no comparison in the world of high fidelity.
The digital-to-analogue conversion principle with 16-bit quadruple oversampling, developed in Europe, eliminates the interference frequencies above half the sampling rate without affecting the phase response, and guarantees the high resolution of the sound image. The 19 programme steps open up versatile programming variations; access times are short with a reading speed of 15 000 tracks -per second.
The B226 offers one fixed-level and one variable audio output. Two additional outputs provide the digital signal for future applications such as CD graphics, CD-ROM and digital dubbing.
The B226 CD player was built from 1986-1992. As the manufacturer, we have been reconditioning our Revox units with original spare parts for decades. You will receive the B226 from us completely overhauled and refurbished.
The impressive end result is a product in mint condition.
After ordering, you will receive a corresponding certificate.
The unit has a 2-year warranty.
Sebastian Geiges - Buyer of a Classic B226 CD Player
"It plays quite superbly! The sound is excellent and above all not "digital" at all. And I have already admired the optical condition in Villingen, it looks like it came off the production line yesterday.
I have been listening for more than 10 years only with Revox components. For me, Revox combines outstanding natural sound with high-quality design and an almost legendary reliability. I was all the more pleased about the new Classic offer. Picking up my B226 CD player at the factory in Villingen was a very special experience. The player cuts an incredibly fine figure on my STUDIOMASTER M300, and can even be controlled remotely via the STUDIOCONTROL C200 remote control. These are exactly the qualities that fascinate me about Revox."
Technical details
dimensions
weight (kg): 8.5
depth (mm): 332
height (mm): 109
width (mm): 450
Signal-to-noise ratio
> 96dB (20 Hz - 20 kHz)
Contents of the programme steps
mixed, TIME, TRACK
distortion factor
< 0,005% (20Hz - 20kHz)
frequency range
20 Hz-20kHz ± 0,1dB
Output level
2 V RMS 0 ... 2 V RMS
Special functions
POWER OFF, PAUSE, LOOP
Programming options
Via keyboard or by setting marks
Noise-to-voltage ratio (according to ASA-A, measured over band)
> 100 dB
Anzahl Programmschritte
19
Search time for full CD
< 4 Sec, < 3 Sec
Search time for any position
< 4 Sek (über 12,000 Lieder / Sek)
Start time from pause
< 0.6 Sec
Maximum playing time
74 minutes
Synchronisation fluctuation
Quartz accuracy
Technical details
dimensions
weight (kg): 8.5
depth (mm): 332
height (mm): 109
width (mm): 450
Signal-to-noise ratio
> 96dB (20 Hz - 20 kHz)
Contents of the programme steps
mixed, TIME, TRACK
distortion factor
< 0,005% (20Hz - 20kHz)
frequency range
20 Hz-20kHz ± 0,1dB
Output level
2 V RMS 0 ... 2 V RMS
Special functions
POWER OFF, PAUSE, LOOP
Programming options
Via keyboard or by setting marks
Noise-to-voltage ratio (according to ASA-A, measured over band)
> 100 dB
Anzahl Programmschritte
19
Search time for full CD
< 4 Sec, < 3 Sec
Search time for any position
< 4 Sek (über 12,000 Lieder / Sek)
Start time from pause
< 0.6 Sec
Maximum playing time
74 minutes
Synchronisation fluctuation
Quartz accuracy