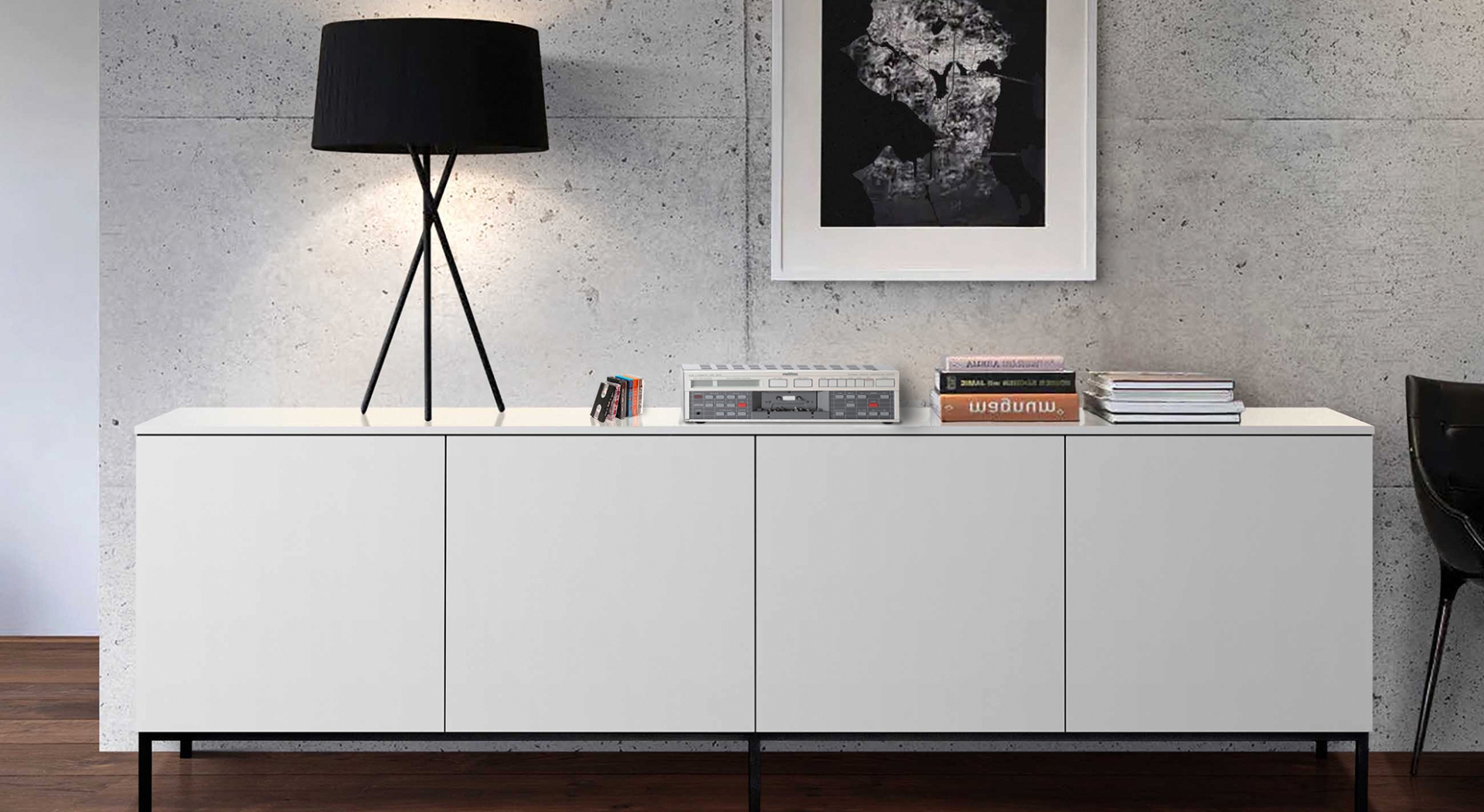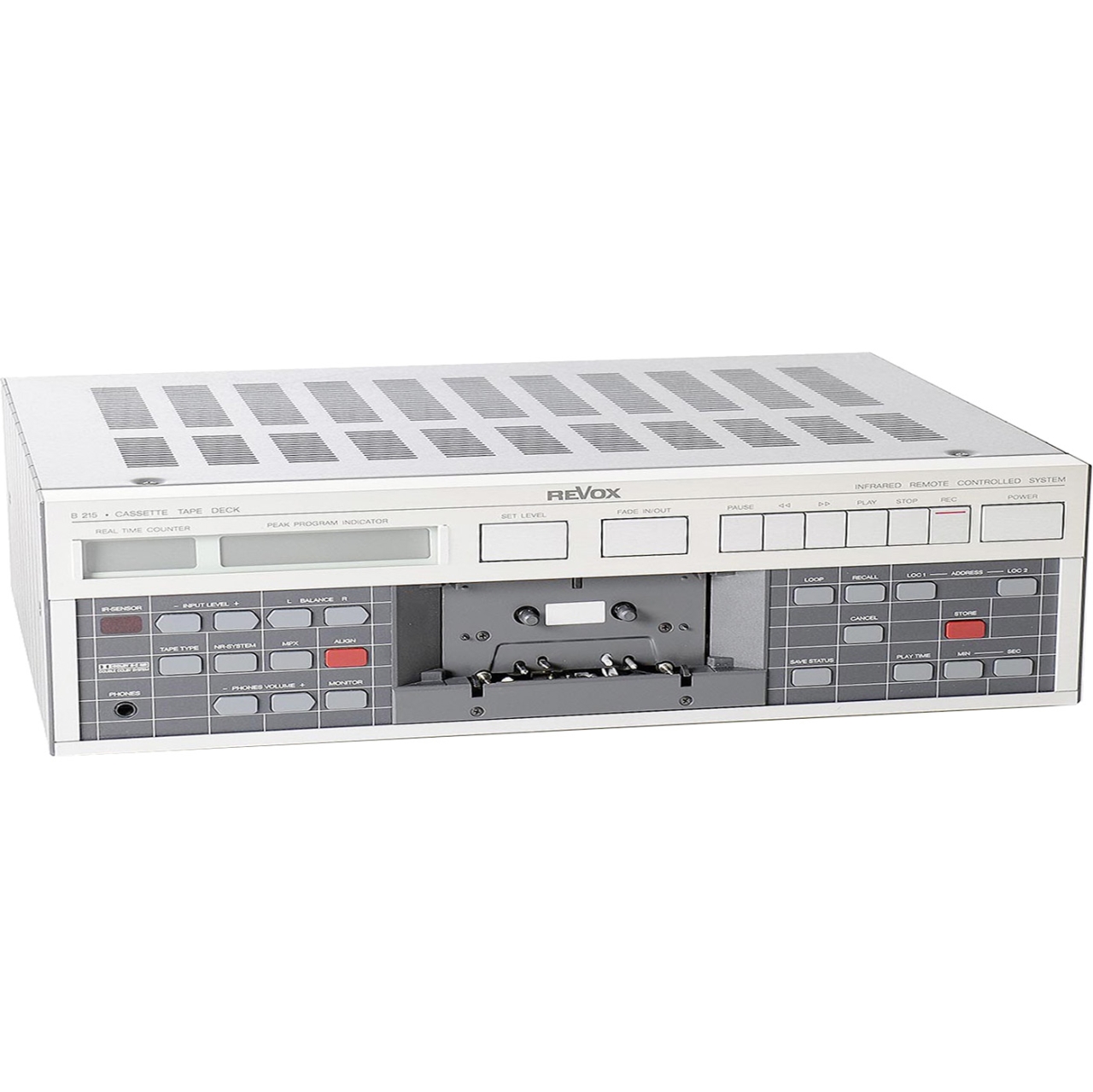 The Revox B215 cassette deck was the successor to the legendary Revox B710 and, just like this unit, was far ahead of its time. All this despite the fact that Revox was very late in bringing a cassette recorder onto the market. The B215 is considered by hi-fi enthusiasts to be one of the absolute reference devices in the field of cassette recorders. The special features and quality of this unit were achieved through a number of technical refinements and innovations, and through Revox's long experience with tape machines. Stable and precise tape guidance round off the playback of the B215 cassette deck.
The Revox B215 has the state-of-the-art calibration computer of the time with an integrated tone generator with three frequencies. 500 Hz for the level (Level), 4 kHz for the equalisation (EQ) and 17 kHz for the bias or pre-magnetisation, which is done at 105 kHz. Both channels are measured and adjusted separately. Within 20 seconds, six different measurements determine the settings for recording volume, equalisation and bias, and the data is stored in one of the 6 memory locations. In addition to manual, fully automatic leveling and recording was also possible through peak level measurement and holding. This concept stands for studio sound quality.
The B215 cassette deck was built from 1985-1994. As a manufacturer, we have been reconditioning our Revox devices with original spare parts for decades. You will receive the B215 cassette deck from us completely overhauled and refurbished. All sound heads are new.
The impressive end result is a product in mint condition.
After ordering, you will receive a corresponding certificate.
The unit has a 2 year warranty.
Technical details
dimensions
weight (kg): 9.15
depth (mm): 332
height (mm): 153
width (mm): 450
Tape counter
Real-time display in min. / sec. taking into account the preselected cassette playing time
Playback equalisation
Typ I: 3180 µs + 120µs, Typ IV: 3180 µs + 70µs, Typ II: 3180 µs + 70µs or 120 µs
Crosstalk attenuation
> 40 dB at 1 kHz
Frequency response
Typ IV: 30Hz ... 20 kHz +2/-3 dB, Typ II: 30 Hz ... 20 kHz +2/-3 dB, Typ I: 30Hz ... 18kHz ... +2/-3 dB, via tape, after automatic calibration
distortion factor
Typ IV < 1,0%, Typ II < 1,5%, Typ I < 0,8%
Locator function
2 addresses can be freely set and deleted, Possibility for loop operation
Noise cancellation system
Dolby B/ Dolby C switchable, both for recording and playback separately
Rewind time
ca. 75s for C-120, ca. 50s for C-60
Synchronisation fluctuation
0,1% for C60 and C90 (DIN 45507)
Drive
4-motor drive, 2 DC motors controlled via microcomputer, 2 individually controlled, direct-drive capstan motors
Technical details
dimensions
weight (kg): 9.15
depth (mm): 332
height (mm): 153
width (mm): 450
Tape counter
Real-time display in min. / sec. taking into account the preselected cassette playing time
Playback equalisation
Typ I: 3180 µs + 120µs, Typ IV: 3180 µs + 70µs, Typ II: 3180 µs + 70µs or 120 µs
Crosstalk attenuation
> 40 dB at 1 kHz
Frequency response
Typ IV: 30Hz ... 20 kHz +2/-3 dB, Typ II: 30 Hz ... 20 kHz +2/-3 dB, Typ I: 30Hz ... 18kHz ... +2/-3 dB, via tape, after automatic calibration
distortion factor
Typ IV < 1,0%, Typ II < 1,5%, Typ I < 0,8%
Locator function
2 addresses can be freely set and deleted, Possibility for loop operation
Noise cancellation system
Dolby B/ Dolby C switchable, both for recording and playback separately
Rewind time
ca. 75s for C-120, ca. 50s for C-60
Synchronisation fluctuation
0,1% for C60 and C90 (DIN 45507)
Drive
4-motor drive, 2 DC motors controlled via microcomputer, 2 individually controlled, direct-drive capstan motors