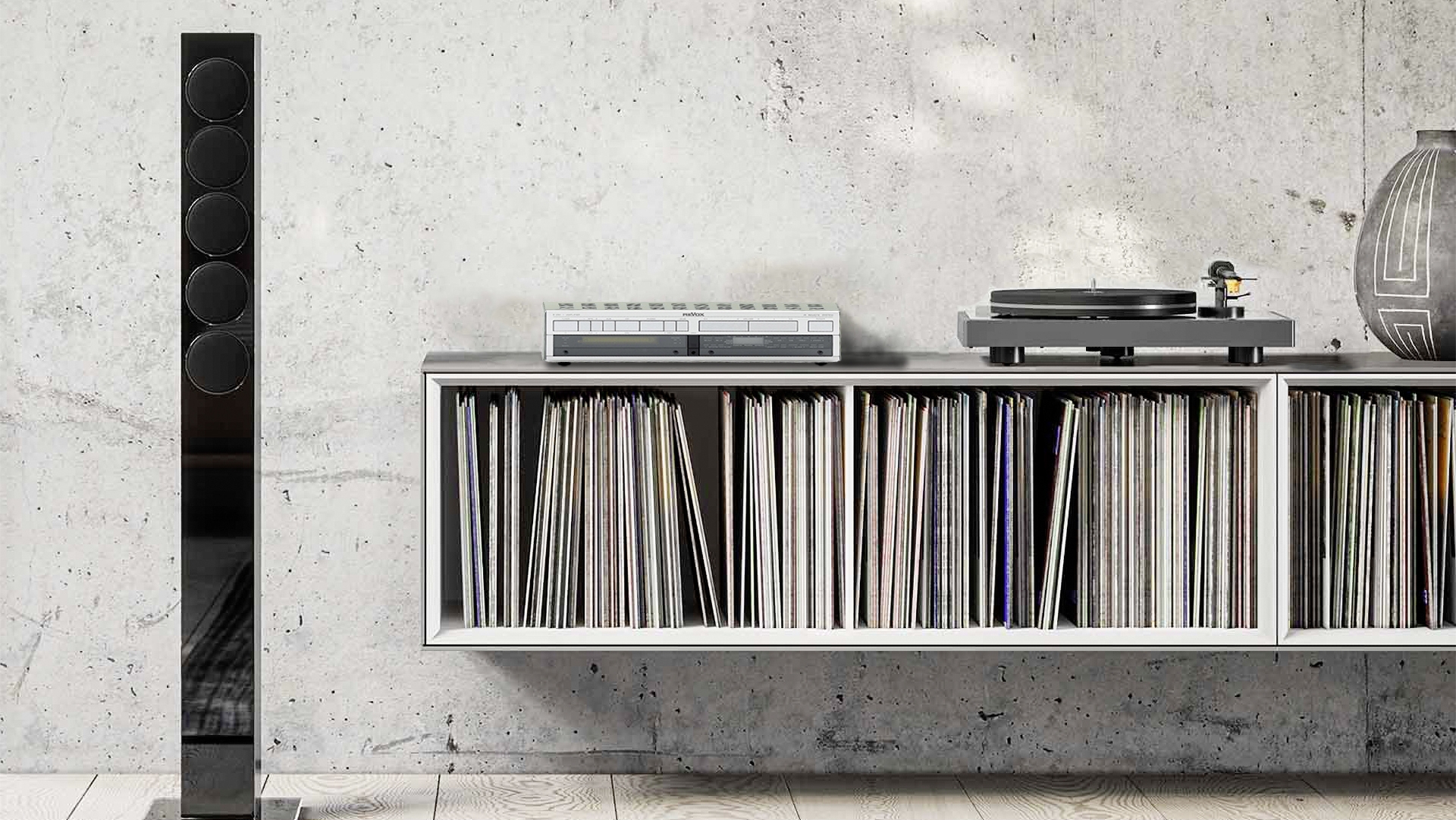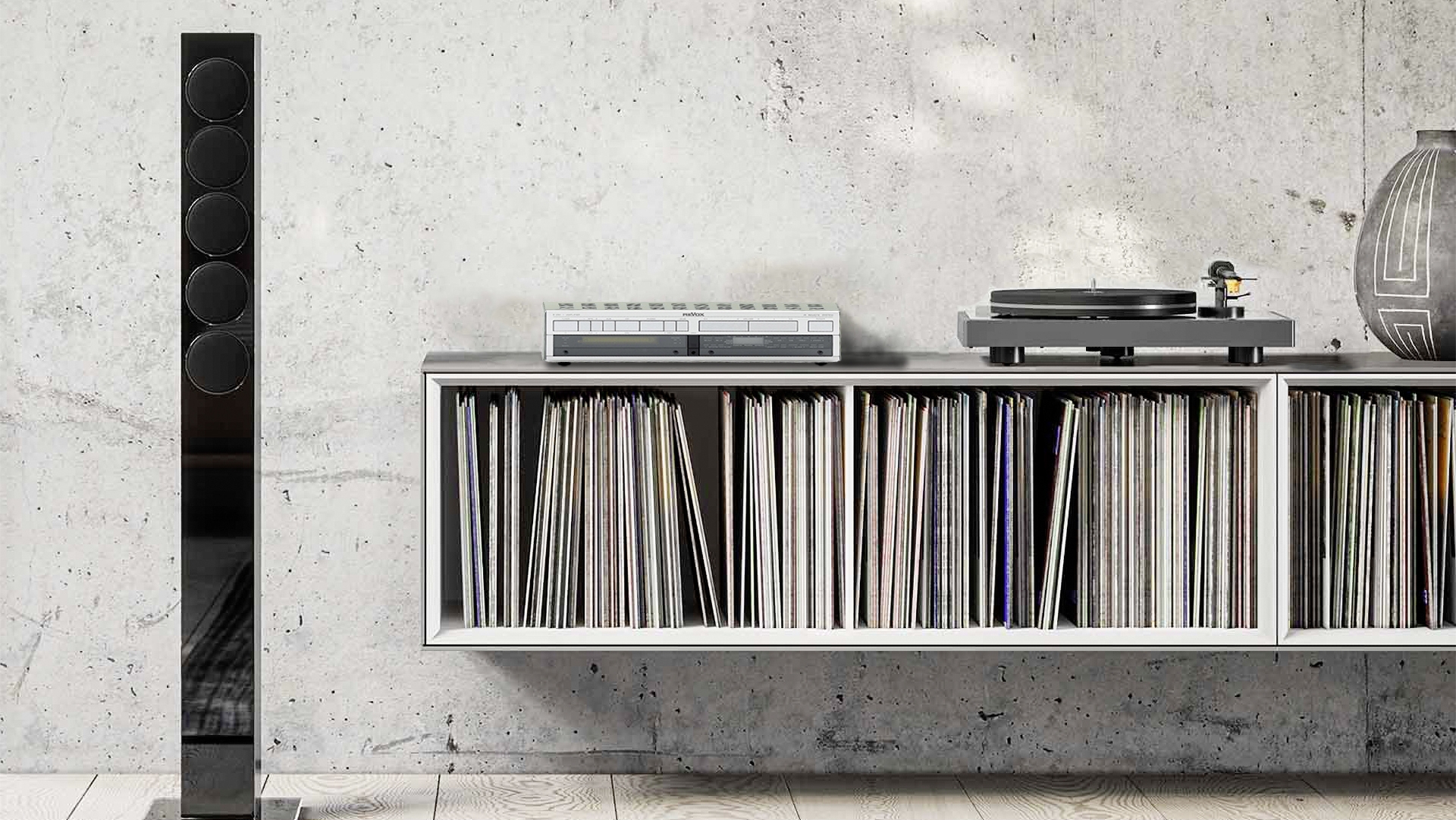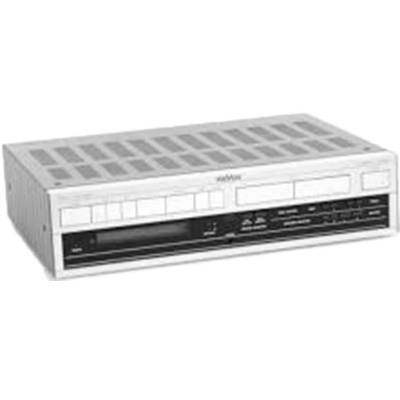 B150 HiFi Amplifier
Completely new in the B150 HiFi amplifier was the exclusive, dynamic quiescent current control of the power amplifier in class A/B circuit, which combined low power dissipation with the very low distortion with a class A power amplifier.
Thanks to careful amplifier design, very high dynamic range was achieved. Even with only 50mW output power, the Revox B150 achieved an absolutely digitally suitable 80dB extraneous voltage ratio.
With the Revox B150, the dynamics of a PCM device were achieved for the first time. The operating concept not only provided for a separation of primary and secondary elements, but also an IR remote control for all operating functions.
It was only through the use of state-of-the-art CMOS D/A converters that it became possible to electronically control high-end hi-fi audio components without sacrificing quality. For example, the level balance for the seven signal inputs could be set and stored electronically.
The B150 HiFi amplifier was built from 1988 - 1989. As a manufacturer, we have been reconditioning our Revox equipment for decades with original spare parts. You will receive the B150 HiFi amplifier from us completely overhauled and refurbished. A new display will be installed. The B150 is delivered with an external transformer.
After the order you will receive a corresponding certificate.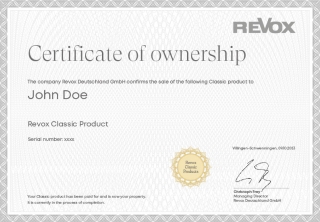 The device has 2 years warranty.
Technical details
dimensions
weight (kg): 12
depth (mm): 332
height (mm): 109
width (mm): 450
Year of construction
1988-1989
Music power
2x 130 Watt (8 ohm), 2x 250 Watt (4 ohm)
Sine power
2x 130 Watt (4 ohm), 2x 90 Watt (8 ohm)
output power
20 Hz ...20 kHz, distortion factor <0.015%
surpression factor
> 100 at 8 Ohm
input sensitivity
200 mV/ 47 kOhm
Output level
500mV/ 440 ohm
Frequency response
20 - 20.000 Hz (+0,-0,2 dB)
power consumption
max. 500 Watt
Technical details
dimensions
weight (kg): 12
depth (mm): 332
height (mm): 109
width (mm): 450
Year of construction
1988-1989
Music power
2x 130 Watt (8 ohm), 2x 250 Watt (4 ohm)
Sine power
2x 130 Watt (4 ohm), 2x 90 Watt (8 ohm)
output power
20 Hz ...20 kHz, distortion factor <0.015%
surpression factor
> 100 at 8 Ohm
input sensitivity
200 mV/ 47 kOhm
Output level
500mV/ 440 ohm
Frequency response
20 - 20.000 Hz (+0,-0,2 dB)
power consumption
max. 500 Watt