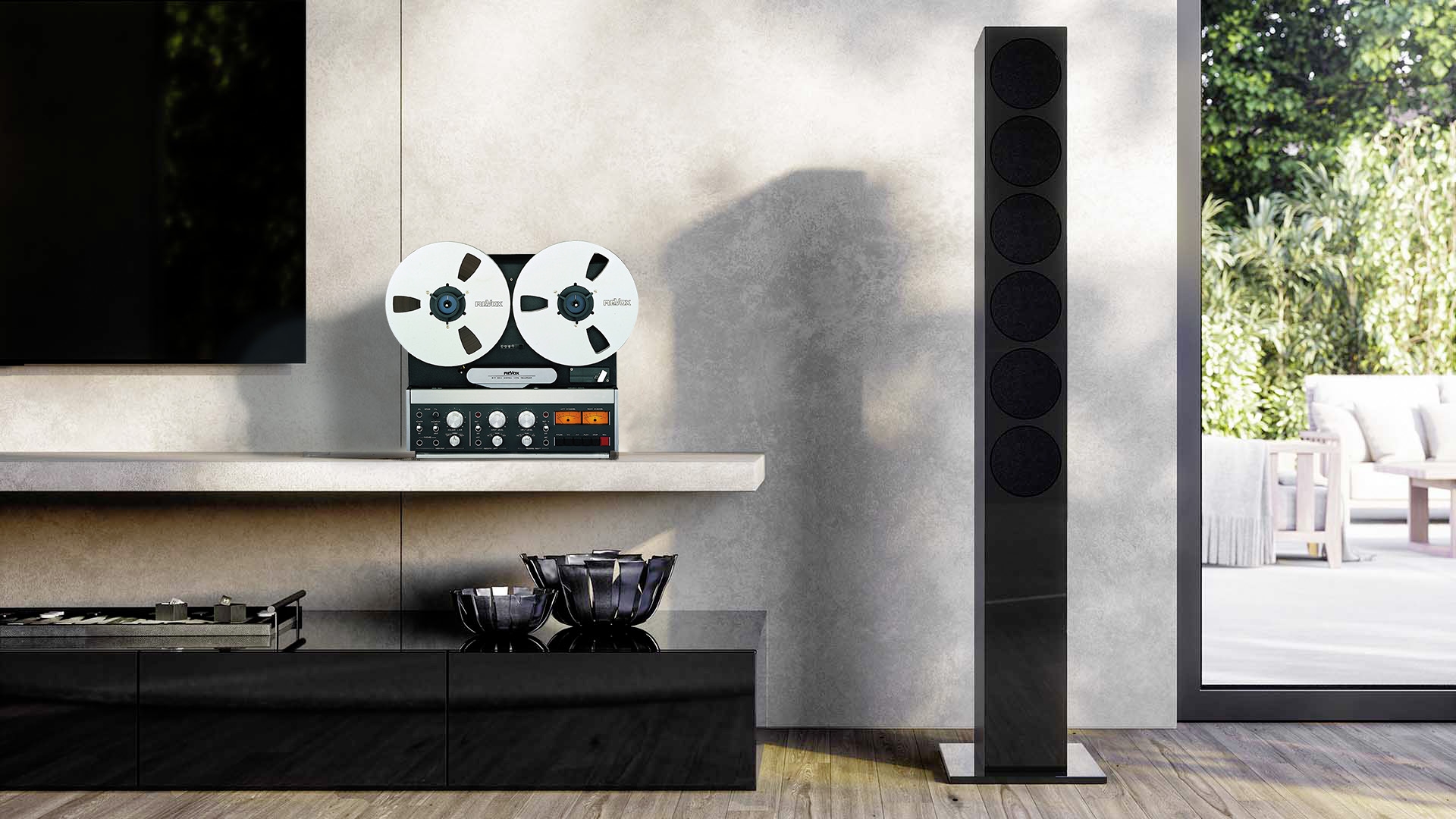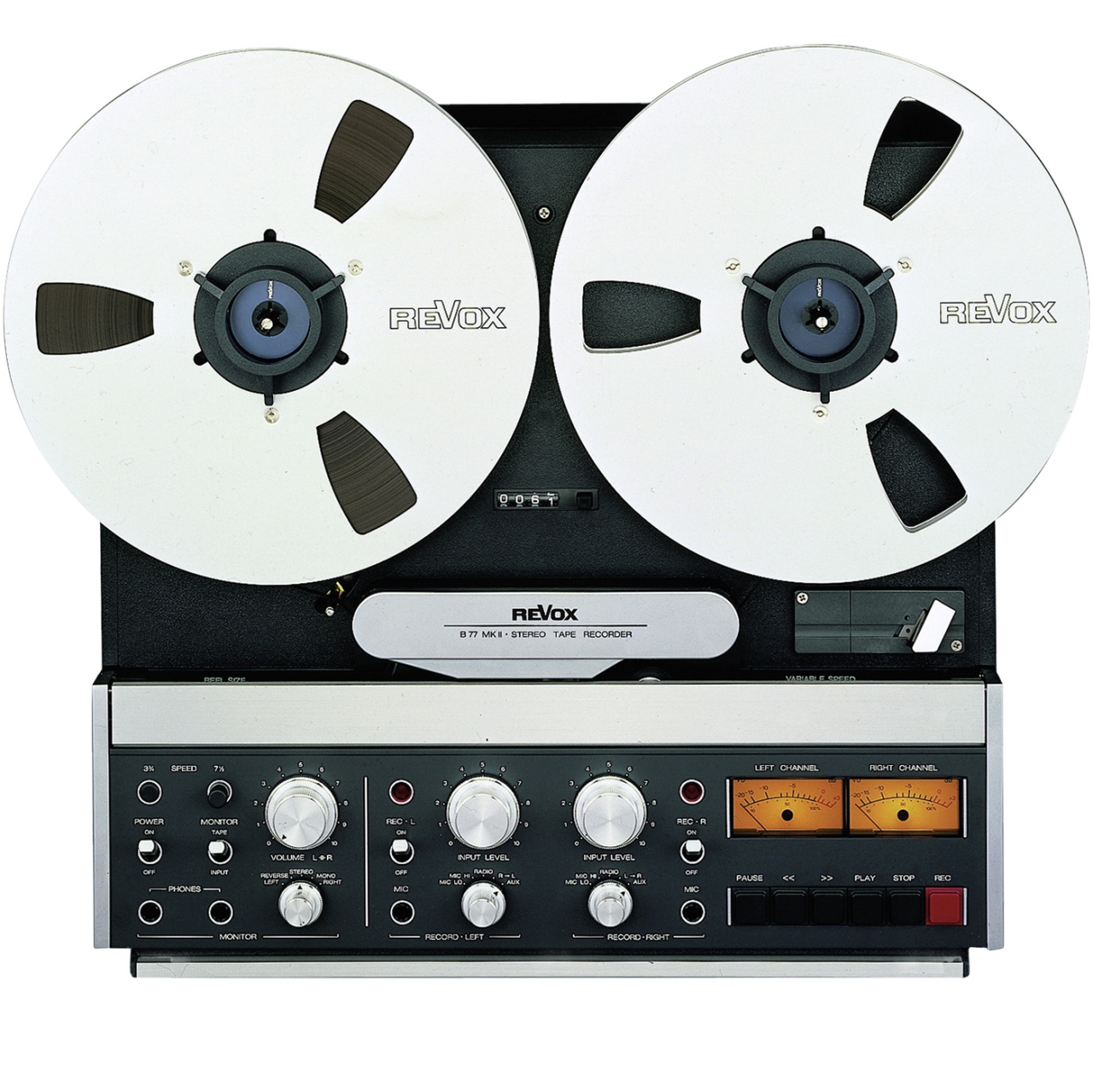 The main difference to the MKI is that the B77 MKII is equipped with a built-in tone motor control (Vari-Speed Control) and revised audio and drive electronics.
In addition to the standard version with speeds of 9.5/19 cm/s, the following models were available: B77-HS with 19/38 cm/s (High Speed), B77-LS with 4.75/9.5 cm/s (Low Speed), B77-SLS with 2.38/4.75 cm/s (Super Low Speed for monitoring tasks), B77-AUT0 with automatic recording start as well as three versions with additional pilot head for simple to sophisticated slide projector control. B77 synch tape recorders had a clock track amplifier for professional synchronous recording from the recording head. Finally, the B77-DOL offered separate Dolby TM-B processors for recording and playback (i.e. "dolbysed back-band" control) for the highest noise levels (19 cm/s, half-track, better than 74 dB).
SUSTAINABILITY: And even today, a B77 tape recorder can be integrated into the latest Revox Multiuser System, for example, and can even be controlled via the Revox App. Because sustainability is important to us.
The B77 MKII tape recorder was built from 1980-1998. As the manufacturer, we have been overhauling our Revox devices with original spare parts for decades. You will receive the B77 MKII from us completely overhauled and refurbished. All sound heads are replaced by new ones.
The impressive end result is a product in mint condition.
After ordering, you will receive a certificate.
The unit has a 2-year warranty.
Technical details
dimensions
weight (kg): 17
depth (mm): 207
height (mm): 414
width (mm): 452
Drive
Three-motor drive 2 AC coil motors 1 AC sound motor electronically controlled
Noise-to-voltage ratio (according to ASA-A, measured over band)
64 dB, 63 dB, 67 dB, 60 dB
Frequency response over tape
30 Hz bis 16 kHz + 2 dB bis - 3 dB, 30 Hz bis 20 kHz + 2 dB bis - 3 dB
Tape speed
HS 19,05/38,1 cm/s, NS 9,5/19,05 cm/s, LS 4,75/9,5 cm/s, SLS 2,38/4,75 cm/s
Synchronisation fluctuation
38 cm/s < 0,06 %, 9.5 cm/s < 0,10 %, 19 cm/s < 0,08 %
power consumption
max. 80 VA
Equipment
11 ICs, 1 optocoupler, 4 triacs, 60 transistors, 33 diodes, 5 LEDs, 2 bridge rectifiers, 3 relays
Rewind time
135 sec. for 1100m tape
Coil size
up to 26.5 cm (10.5 inch)
Technical details
dimensions
weight (kg): 17
depth (mm): 207
height (mm): 414
width (mm): 452
Drive
Three-motor drive 2 AC coil motors 1 AC sound motor electronically controlled
Noise-to-voltage ratio (according to ASA-A, measured over band)
64 dB, 63 dB, 67 dB, 60 dB
Frequency response over tape
30 Hz bis 16 kHz + 2 dB bis - 3 dB, 30 Hz bis 20 kHz + 2 dB bis - 3 dB
Tape speed
HS 19,05/38,1 cm/s, NS 9,5/19,05 cm/s, LS 4,75/9,5 cm/s, SLS 2,38/4,75 cm/s
Synchronisation fluctuation
38 cm/s < 0,06 %, 9.5 cm/s < 0,10 %, 19 cm/s < 0,08 %
power consumption
max. 80 VA
Equipment
11 ICs, 1 optocoupler, 4 triacs, 60 transistors, 33 diodes, 5 LEDs, 2 bridge rectifiers, 3 relays
Rewind time
135 sec. for 1100m tape
Coil size
up to 26.5 cm (10.5 inch)